GENERAL PURPOSE (GP) CONTAINER
General purpose containers are the most basic and common form of containers seen today. They are typically used to transport goods by sea or land, due to their durability and sturdiness.
At Container Specialist Pte Ltd, our GP containers come in different dimensions and can be fully customised for your business. On top of that, we offer flexible rental and purchase options.
General Purpose (GP) Containers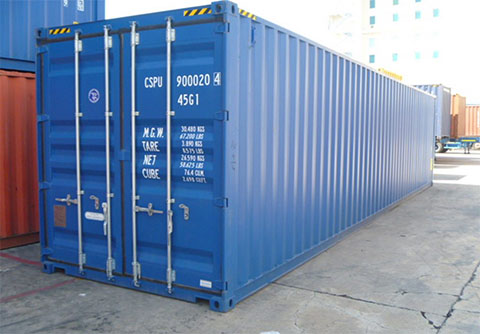 Sturdy and Durable
GP containers are sturdy and are versatile storage solutions that can withstand weather conditions.
Customisable for any business needs
The versatility of GP containers allow them to be customised for any business requirements. For example, things like shelving, fans and proper ventilation can be installed to create your desired environment. Other than transporting goods, these cargo containers  can also be designed for temporary uses such as mobile advertising and catering events. They can also be remodelled into office containers .
Various options available
Our fleet are readily available in 4 sizes – 10ft, 20ft, 40ft standard and 40ft high cube. This enables your business to pick the most cost-effective option.
Sizes
 
3m (10ft)
6m (20ft)
12m (40ft)
12m (40ft High Cube)
External Dimensions (approx.)
Length
3,048 mm
6,058 mm
12,192mm
12,192 mm
   
Width
2,438 mm
2,438 mm
2,438 mm
2,438 mm
   
Height
2,591 mm
2,591 mm
2,591 mm
2,896 mm
Internal Dimensions (approx.)
Length
2,890 mm
5,898 mm
12,032mm
12,032mm
   
Width
2,353 mm
2,353 mm
2,353 mm
2,353 mm
   
Height
2,393 mm
2,393 mm
2,393 mm
2,698 mm
Material
Steel
Steel
Steel
Steel
Cubic Capacity (approx.)
16.5 m3
33.2 m3
67.6m3
76.4 m3
Max. gross weight (approx.)
7,500 kgs
24,000 kgs
30,480 kgs
32,500 kgs
Tare weight (approx.)
1,500 kgs
2,370 kgs
3,490 kgs
3,900 kgs
Payload (approx.)
6,000 kgs
21,630 kgs
26,990 kgs
28,600 kgs
Note : Above specification details may varies.
Why choose Container Specialist?
Immediate mobility
Our 24/7 hotline ensures that we are able to attend to your needs any time of the day. Should you need any technical assistance, our team will be activated to offer maintenance support. We are dedicated to guarantee your comfort.
Choice of rental or purchase
We understand that businesses have varying needs. Thus, we strive to offer flexible options for rental and purchase including
Weekly, monthly or yearly rental
Purchase after rental
Selling back to us after purchase
For more information on our GP containers, drop us an email at csreefer@containerspecialist.com.sg or call us at +65 6438 5200.
General Purpose
Containers